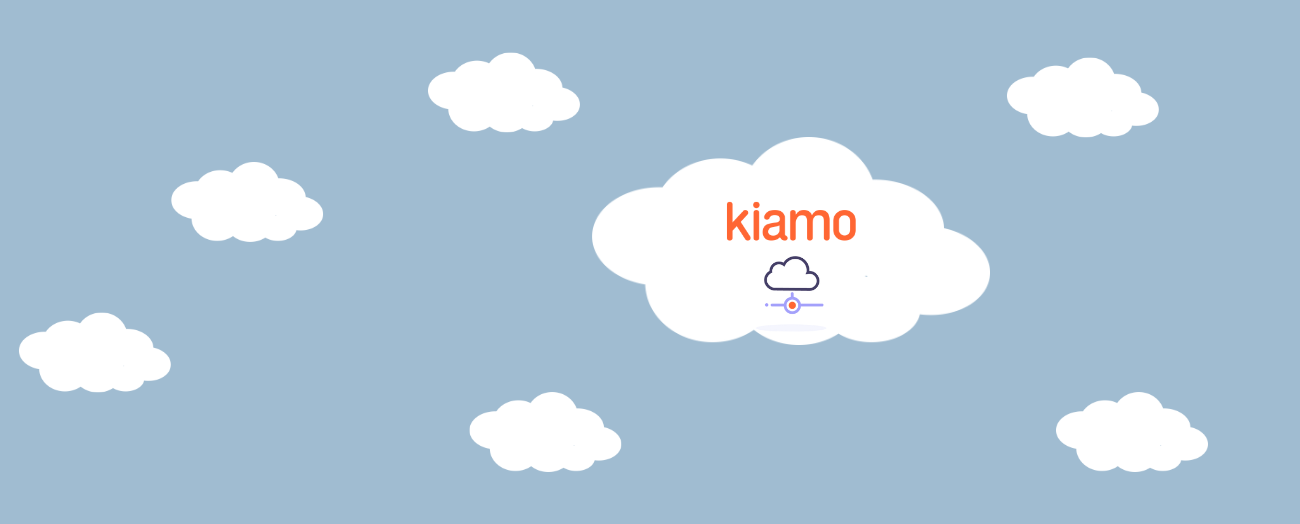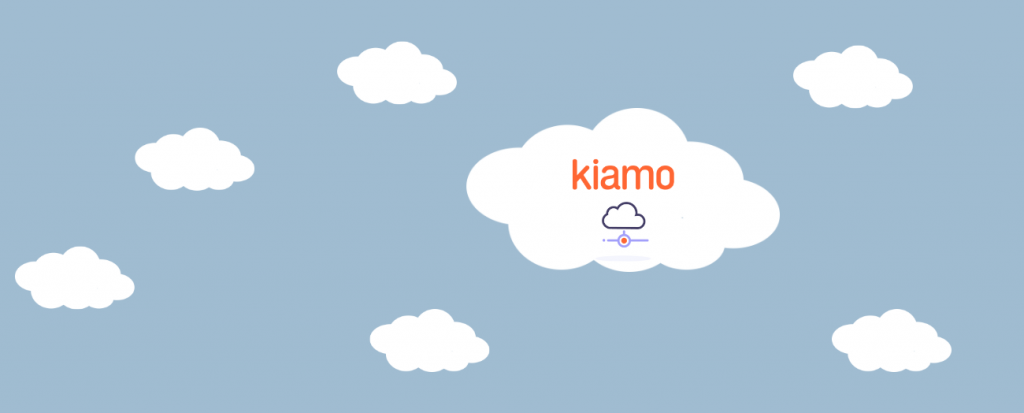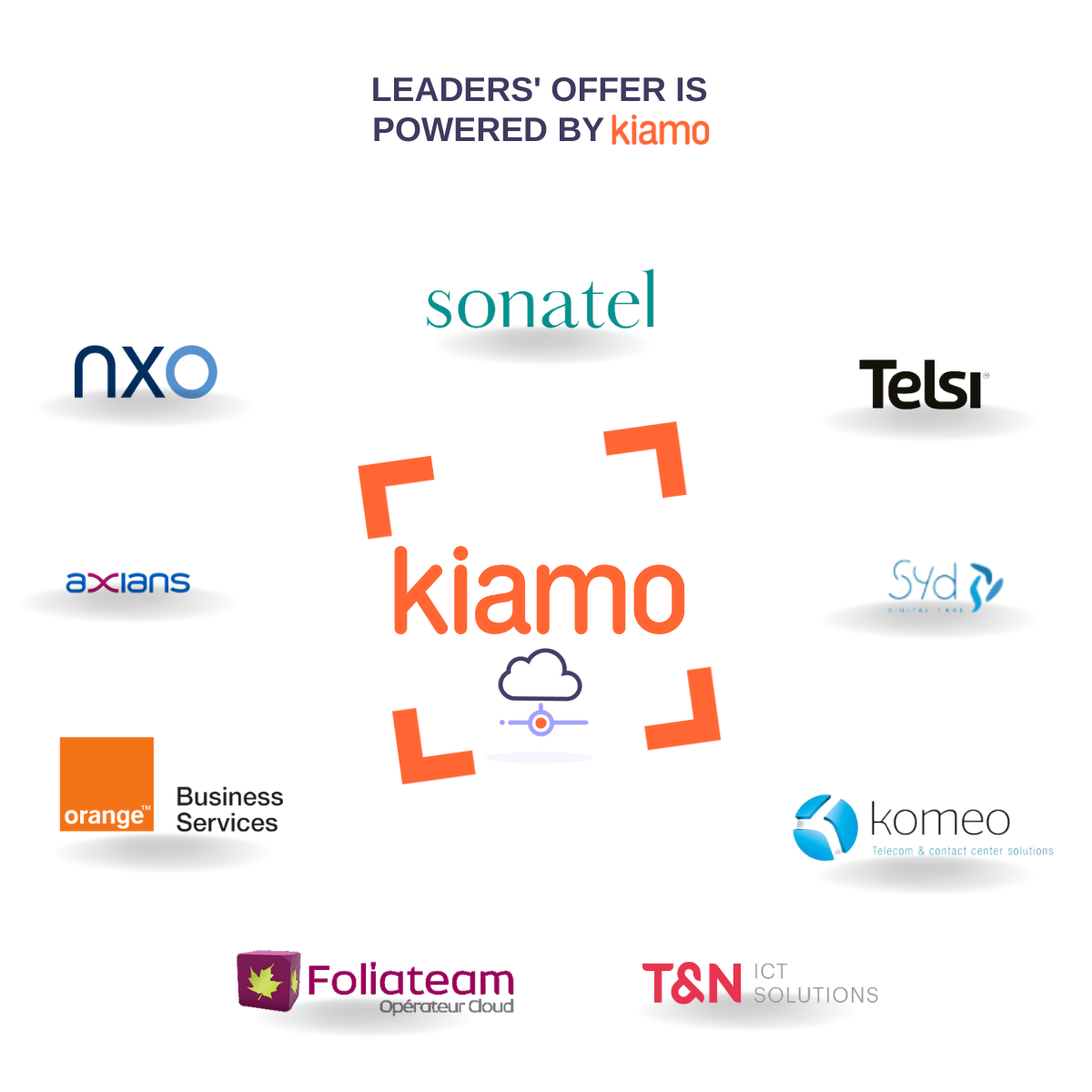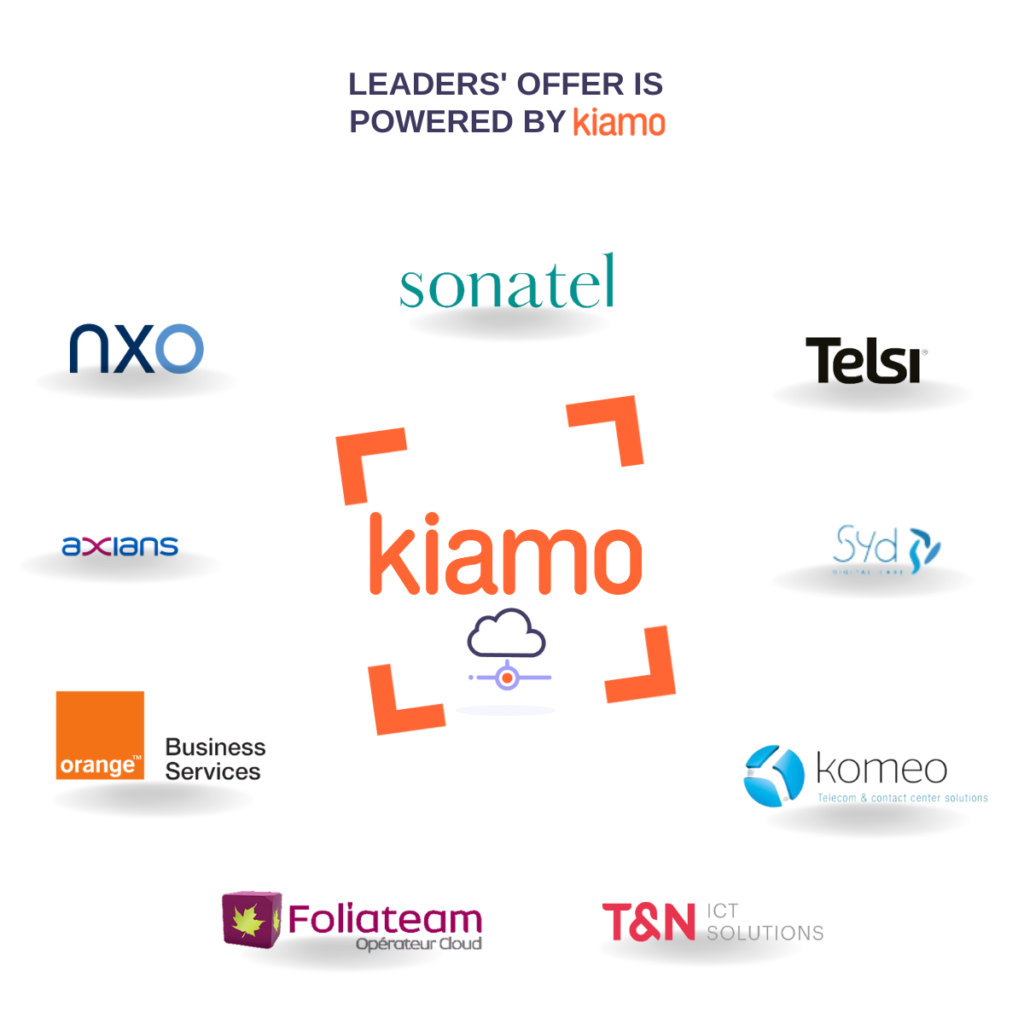 Contact Centers are getting the attention they deserve
Excellence in customer relations has become an imperative for companies. Long considered as separate element, Contact Centers are now seen as central element of the customer journey, and are increasingly integrated with other processes of the customer journey (physical reception, digitalization of processes, etc.)
The explosion of digitalization is forcing Contact Centers to evolve, to take into account new media, to manage more sophisticated integrations with the company's IS such as interconnection with the CRM but also with other applications (WorkForce Management, Quality Monitoring, Natural Language Recognition, etc.). This complexity leads to strategic and structural choices (human resources, tools, processes, information systems, etc.).
Two distinct approaches can be considered by contact center managers:
One can decide to rely on a SaaS type platform to smooth out costs via a service subscription. This represents challenges (QoS, voice quality, criticality, integration with the IT environment, all-inclusive approach and openness to third-party systems, dependence on the publisher) but this approach may be suitable for a certain market segment.
One may prefer the services and offers of an integrator with a Private Cloud offer that brings a strong technical added value beyond the software part. End-to-end support for scalable and open solutions is then possible over the long term thanks to the integrator's proximity, knowledge of the customer relationship business, understanding of the systems in place and expertise in process transformation and change management.
The value of private clouds offered by integrators
As we can see, there are two ecosystems that are in conflict today. On the one hand, there are SaaS vendors who control the end-to-end value chain, and for whom integrators play a role that is increasingly limited to bringing in business. With them, integrators are pushed to abandon their specific expertise, sometimes against their strategy to offer a full range of services (complex integration with the IS, customization and parameterization of tools, functional workshops, …) to a demanding and ambitious customer profile.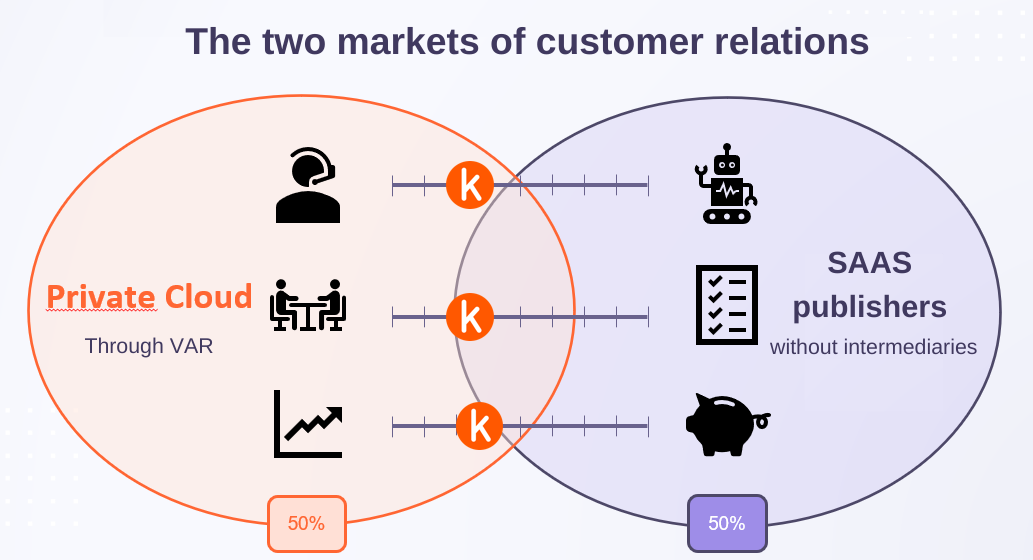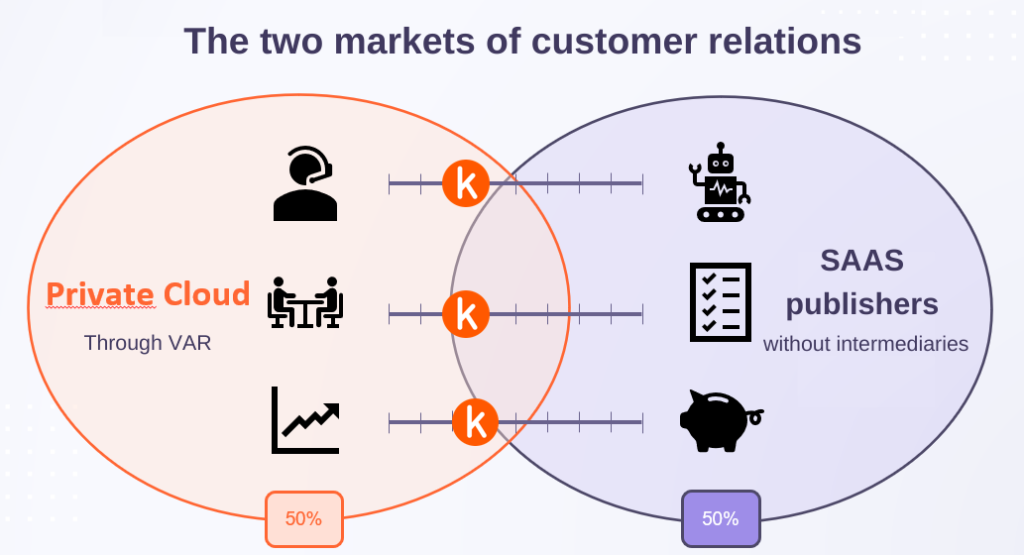 While SaaS is gaining ground, particularly in simple configurations, the Private Cloud of integrators will always represent a significant share of the market, dominating segments with a strong need for integration and oriented towards omni-channel.
The "SaaS" option (provided and hosted directly by the solution provider) is particularly well suited to a specific and important part of organizations for whom it corresponds to their vision of customer relations. It leaves little room for the integrator, competing with the editor who captures most of the value. This option tends to push "off-the-shelf" solutions, which are quicker to implement but with fewer customization possibilities, and more expensive in the long term (TCO) due to an expensive subscription model over several years.
The private cloud option will be preferred by the most ambitious companies in their approach to customer relations. At Kiamo we believe that this approach is a win-win situation for everyone involved. For the customer first (control of Quality of Service, customer satisfaction, sustainability of the solution over time, project management, evolution and agile and scalable integration with other systems …).  For the integrator, who participates in the design and implementation of all these elements. We can talk about "Long Term Value for all". These solutions allow a great flexibility for the variations of volume (subscription) and an optimization of the TCO with the possibilities of partial investment in CAPEX. Sometimes seen as an approach with strong upsides, but also operational limitations such as heavy SW upgrade cycles, slower innovation or complex relation between HW and SW implementation, those perceptions have no reality anymore thanks to Hybrid implementation like Kiamo. This modern private cloud approach ensures smooth SW updates, continuous feature deployment while keeping the Private advantages intact (Security, controlled environment, high level of customization,).
There is now a consensus that these two market approaches will remain significant in terms of market share in the future, with Private Cloud's large share stabilizing over the long term. This strongly contradicts the predictions of a few years ago that the SaaS model would dominate (a major difference with CRM solutions), not taking into account the specificities of contact centers.
Kiamo has always decided to serve this Private Cloud approach, by offering its technical solution with a hybrid and natively omni-channel architecture. This solution perfectly matches the needs of customers who share our vision of excellence in terms of customer relations. We believe in the importance of offering agile cloud infrastructures, but also with dedicated elements that enable contact centers to operate optimally and to meet their specific challenges, such as the particularities of network and telecoms infrastructures, the real-time criticality of flow management applications, different information systems or data confidentiality.
Thanks to a hybrid architecture approach (the critical elements of the solution are in a private cloud and the others that allow flexibility and innovation are shared in a public cloud), the Kiamo solution manages to offer the advantages of both worlds: security, confidentiality, RGPD compliance, real-time, quality on the one hand. Agility, innovation, operational flexibility, continuous updates, control and management by the business on the other. Forget the limitations once associated to Private Cloud architectures. Hybrid provides the best of both worlds.
The changing role of integrators
Our commitment to the Private Cloud stems from our analysis of the market and its changing needs. The successful integration of an Interaction Management solution in an enterprise depends greatly on the quality of the integration project and the support of business experts.
This is even more true today when it is not simply a question of replacing a technical solution but of a project that structures the teams. We are convinced of the importance of workshops with users, training, solution configuration, integration developments with information systems, choice of infrastructure and hosting, and the strong need for change management to guarantee the success of this type of project. Understanding the expectations of users, customer relations managers and technical administrators is strategic to provide the best response, while integrating the economic constraint. This is not only a technological choice but a complete structuring project.


      Internal or consultant led Project Management phases                                       Kiamo's integrator led Project Management phases
It is often observed that the capabilities and features of the software are well studied in detail by users and this guides their choice among competing offers. As a software editor, we obviously share this point of view and our solution is designed to be the most efficient and fulfill technical and functional requirements. However, we also strive to systematically recall the essential importance of the integration phase in the environment and the project that surrounds the selection and deployment to fit ways of working and operational processes.
That is why, we have chosen to surround ourselves with integrators who are experts in the fields of IT, network and telecom project management and now hosting projects, as well as advanced expertise in the contact center business. The evolution of the expertise demand are also a challenge for the integrators organizations. They were previously focused on installing and maintaining stand-alone technical solutions and not so much on the user's applicative expertise. Our ongoing processes of selection, training, certification and support of these partners towards contact center excellence ensure that only partners who are fully committed to this approach distribute the Kiamo solution.
Users who choose to invest in their customer relations can therefore rely on a stable and solid infrastructure and partners to evolve over time.
A solid and scalable technical and functional foundation to be able to react to future challenges and optimize TCO
Kiamo's technical architecture for Private Cloud meets the ever-increasing demands for security and confidentiality of customer relationship data with a dedicated application engine in Private Cloud. The RGPD and security constraints will become increasingly demanding in the years to come. With its new generation hybrid platform, natively omnichannel, functional evolutions are made available on a regular basis, as with SaaS platforms, thus enriching the dedicated Kiamo engines of customers while simplifying updates. By its very nature, the offer is available as a flexible mix of CAPEX and OPEX that allows users to optimize their financial investments in order to improve the TCO of the solution while remaining flexible to changing needs. This point is often overlooked when making decisions to opt for a more expensive SaaS subscription model in the medium and long term. OPEX / CAPEX flexibility allows the investment to be spread over time, adjustable according to the strategy.
This approach allows integrators who build their offerings on the Kiamo platform to exploit and enhance all their expertise and put it at the service of their customers by meeting their business, technical and financial needs.
At Kiamo, we are convinced that this strategy is the best way to face the challenges of tomorrow :
the increasing evolution of consumer demands in terms of brand relationships, which will require organizations to evolve digital flows and human interactions in concert
the ability to rapidly evolve and integrate new technologies in the context of automating and digitizing the customer journey by relying on a solid distribution engine that can be driven by the business,
and finally, the attention paid to the human operator when he or she is called upon to intervene, giving him or her all the assets to respond effectively to the customer's request. This last point is the subject of other articles specifically dedicated to the specifics of the Kiamo solution for the various key players such as agents, pilots, administrators or developers.
Kiamo is the leading contact center solution provider in France and is currently expanding into several other markets in Europe and Africa. Its 100% indirect distribution model allows the network's certified partners, carefully selected for their business and technical experience in contact centers, to offer their customers a local expert service whose Kiamo skills are guaranteed by the Kiamo School's program of certifying training and regular upgrades.