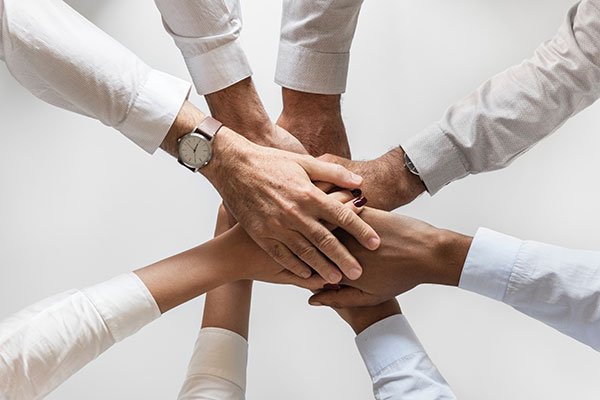 One of Kiamo's great strengths is that our solution is built with our users. We have set up numerous systems to develop our successful co-construction strategy.
We invite you to discover the resources we use, our coordination process and the results we have achieved.
 Why is co-construction so important
For a product to succeed on the market, it must meet a need. and Kiamo did just that. The solution was designed fifteen years ago and has been continually optimized ever since. Throughout a product's life, it must evolve in line with user expectations, in order to build loyalty, and again, that's exactly what Kiamo has done.
In customer relations, needs have changed quickly in recent years with the emergence of novel applications driven by new technologies. Prior to the year 2000, remote customer relations were limited to three media (telephone, mail and fax). Today, there are more than a dozen ways to reach customers digitally.
At Kiamo, our credo "Building Human Interactions" starts with our users.
They are at the heart of the customer experience and we support their new practices. This is why we've included all channels in the product and developed powerful features based on our users' expectations, applications and practices, in other words their routine tasks. By listening to the needs of the market, we not only have a detailed understanding of the new challenges, but we also anticipate future expectations.
What do we mean by co-construction?
When we talk about co-construction of the product, we don't just mean that we send out a satisfaction survey once a year to find out what our users think. Instead, it's a long-term, novel approach on the market that is based on three pillars.
The first pillar is the Customer Success program. In this program, our Customer Success Manager meets users on site to ascertain their requirements in a specific context. This context-based approach is invaluable in enabling the product team to better understand the use scenarios or the difficulties encountered in learning to use certain features.
The second pillar involves holding frequent user workshops. During these events, users from various backgrounds discuss one or two Kiamo features. It is an opportunity to identify expectations across a larger panel, but also to find out whether a change would benefit a majority of users.
Last but not least is the myKiamo community. This forum on the myKiamo website is a collaborative space where all the stakeholders of the solution (users, partners and employees) can share their thoughts. One of the most active pages is the suggestion box where, in addition to suggesting improvements, anyone can "vote up" the suggestions submitted by other members of the community. Ideas that get the most votes from the community and that are in line with the product philosophy are likely to be added to our product roadmap.
Here are a few figures for 2019 to illustrate the success of the system:
–  Nearly 40 visits to user
–  Over 60 follow-up appointments
–  5 user workshops  in Paris and other regions in France
–  An evening with our users and partners
–  A communauty of more than 600 members, including 200 active every month
–  More than 650 suggestions made on myKiamo
But if there's one number to remember, it's this:
More than 50% of the features in the latest version of Kiamo come from the community!