Configure your
Live Chat sessions simply
Deploy Chat on your website in just a few clicks. Customize the appearance of your invitations and chat windows. Distribute Chat sessions to the most competent advisers available.
Easy Live Chat activation thanks to a simple tag
Creation of an unlimited number of chat queues for your websites
Chat session appearance customization
Automatic message configuration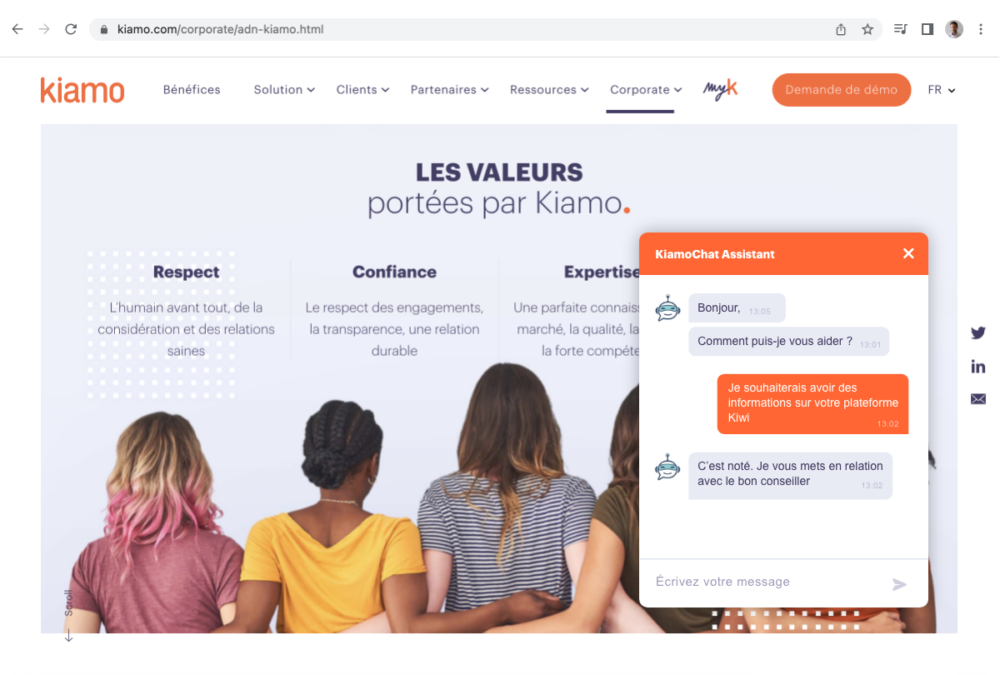 chat with your visitors
in a dedicated interface
Kiamo allows you to manage multiple chat conversations simultaneously in an adapted interface. Prepare your responses thanks to advance viewing of the text entered by your various visitors.
Distribution of Chat sessions according to availabilities and priorities
Real-time preview of the text entered by the visitor
Activation of context-sensitive screen pop-ups
Addition of notes, qualifications and consultation of related data
Discover KIWI
The adviser application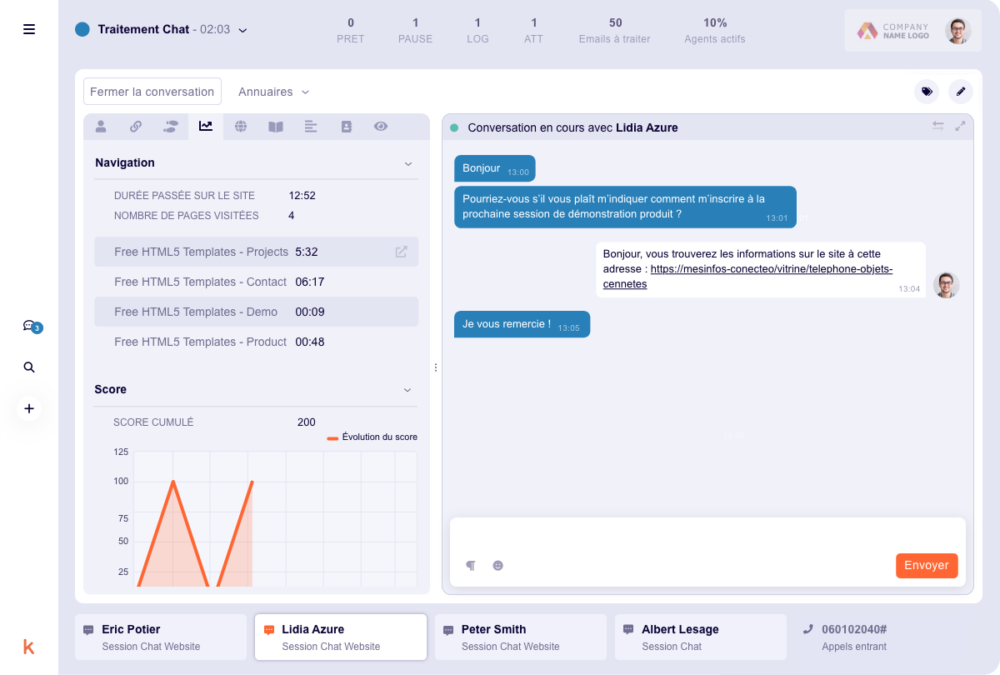 monitor in real time
the visitor browsing journey
Web targeting is used to send chat invitations to visitors. The co-browsing, browsing-journey monitoring and response support features optimize adviser efficiency.
Context-sensitive screen pop-ups (CRM, customer file, directories, video)
Response support tools (knowledge base, history, shopping cart amount, etc.)
Display of the page currently being visited (co-browsing).
Browsing-journey monitoring (pages visited, durations, scoring, etc.)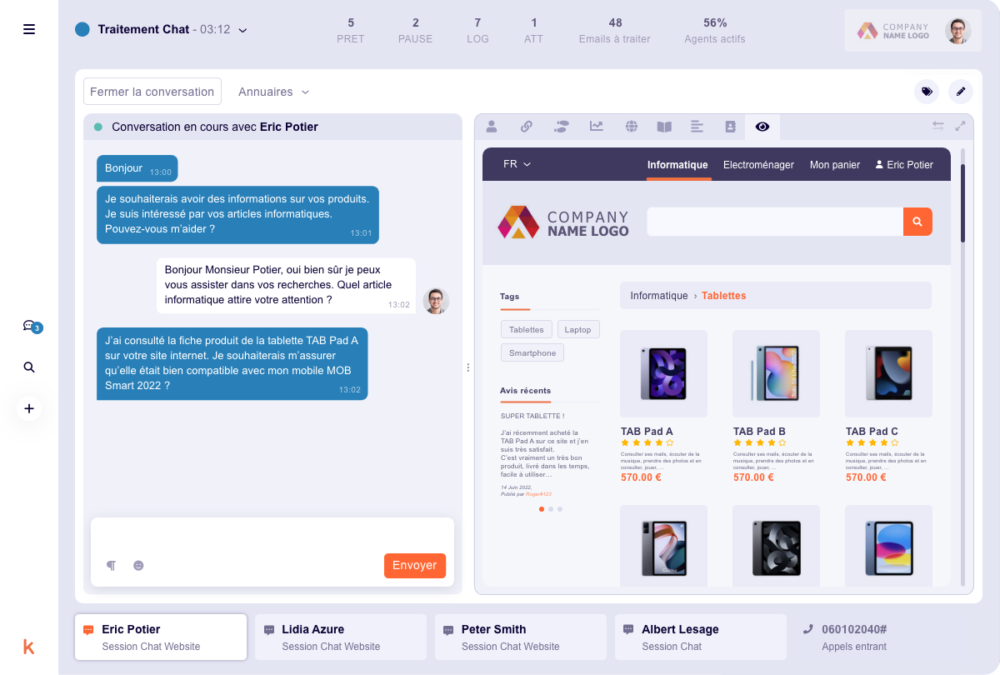 supervise the performance
of your advisers on the Chat channel
Kiamo supervision views allow you to monitor the activities of the Chat advisers in real time. Exportable and printable dashboards are also available. Kiamo logs all chat conversations with visitors.
More than 40 reports dedicated to Chat sessions
Precise indicators (number of messages handled, response times, etc.)
Fully customizable supervision views for Chat
Real-time support for advisers: messages, statuses, etc.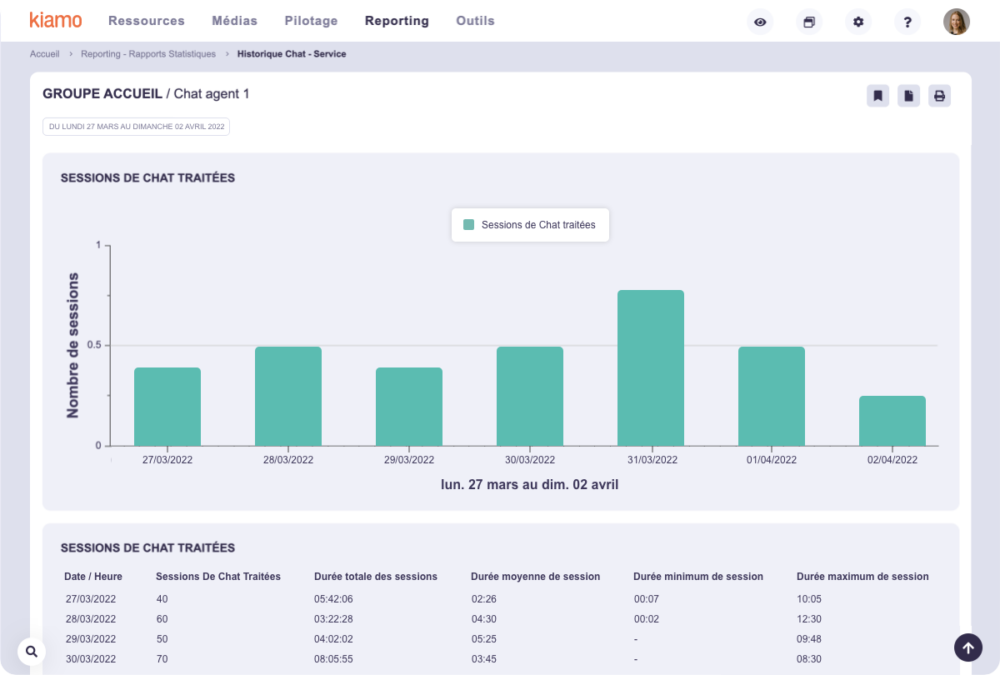 Are you ready to revolutionize the way you exchange with your customers?
Request a demo